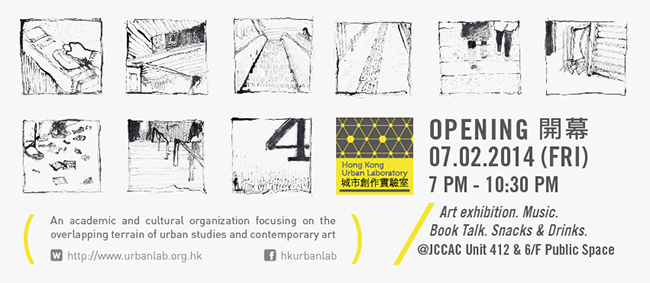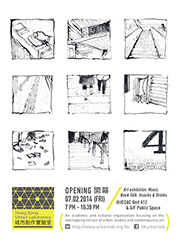 城市創作實驗室
是一個接合城市研究和當代藝術的組織,2014年初,藝團首次進駐一個正式的工作室,決定舉辦一個工作室開幕派對兼展覽,邀請各方友好前來這個實體空間交流。
一系列的宣傳圖像,以九張描述從石硤尾地鐵站前往工作室的過程之插畫作主體,由圖畫提示觀者先找地鐵C出口,然後過馬路、經過車仔麵檔的摺檯、賽馬會投注站外的滿地彩票和煙頭、上樓梯、搭電梯上四樓,就可找到城市創作實驗室。這些插畫亦點出藝團和城市空間的密切關係。
整體設計以黑、淺灰和藝團標誌的黃色為主色,配以手繪插圖和中性的字體,營造知性、學術性但亦清新友善的感覺。
Hong Kong Urban Laboratory (Urban Lab) is an art group which tries to bridge the gap between urban studies and contemporary art. In early 2014, the group had secured a studio space for the first time. It decided to invite friends to a studio opening party and exhibition.
I created a series of nine small drawings for the publicity materials to describe the journey from Shek Kip Mei MTR Station to the Urban Lab studio. The drawings tell visitors how to get to the studio - firstly, find MTR Exit C, cross the road, pass the folding tables of the noodle restaurant, pass the lottery tickets and cigarette butts on the floor outside Jockey Club betting station, go up the stairs, go to the fourth floor, and there you find Urban Lab. These drawings also suggest the close relationship between the art group and the city.
Black, light grey and the yellow of Urban Lab's logo were used as the theme colour of the overall design, accompanied byhand-drawn illustration and neutral fonts. Together they created an intellectual, academic yet fresh and friendly feel.